9-July-2022 : Update on next generation Aegex Tablet
As partner and authorized reseller of Aegex, Comtrol Solutions is pleased to share with you that the next-generation, a powerful Aegex tablet is expected to be available in Q1-2023. Contact Comtrol Solutions to get the latest updates.
18-Nov-2021 : Aegex End Of Life Announcement
Aegex Technologies announced End-of-Sale for ALL Aegex10 Intrinsically Safe Tablet models. Per Aegex End-of-Life Policy, these models will be supported under current warranty agreements. See the Aegex End of Life Policy for more details. These tablets are being replaced by our next generation intrinsically safe tablet in mid-2022.
 https://aegex.com/about/news/end-of-life-announcement

For alternatives to other hazardous area approved tablets, contact Comtrol Solutions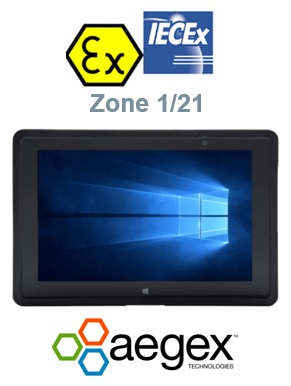 Rugged and Intrinsically Safe
The aegex10TM Intrinsically Safe Tablet is purpose-built for use in the most hazardous zones of explosive environments. Incapable of igniting a spark, this Windows10® patents-pending industrial device allows for superior mobile communications on dangerous job sites where traditional devices cannot be used. Globally certified under the highest standards of safety for some of the most explosive conditions: ATEX/IECEx Zone 1 and Class I, II, III Division 1, the aegex 10 Intrinsically Safe Tablet is part of a fully integrated Windows 10 platform that brings real-time communications and data management to the world's most hazardous industries, helping begin their digital transformation to Industry 4.0
Display
Screen: 10.1" AHVA Full HD Plus
Resolution: 1920 x 1200
Capacitive touch: Multi-touch
Contrast 800:1
Viewing angle (up/down, left/right) 170°
Operating System
Windows 10 IoT Enterprise
CPU
Intel® Quad-Core Atom processor 2.39GHz
Wireless Communications
WiFi, Cellular, Bluetooth
Battery
Up to 12 hours of web browsing