A handheld computer is one that either fits in your pocket or can be easily held with one hand. Handheld computers are available in the form of smartphones or in the form of a 'gun' which has a keypad for quick data iput and function keys. 
Most handheld computers used in logistics and warehousing today run on Android operating systems and have integrated 1D/2D barcode scanners. With the help of 3rd party apps or the popular iVanti Velocity Wavelink, they are used to improve inventory and picking functions. Handheld computers are also popular choices in manufacturing and retail, due to their rugged design and reliability. They can perform a variety of everyday tasks, including surfing, computing, word processing and emailing.
Are you evaluating handheld computers for your specific work operations? Talk to Comtrol Solutions today!
Zebra MC9300 Mobile Computer
Ultra-rugged, unmatched performance and improved ergonomics, the Zebra MC9300 is the world #1 bestselling Android mobile handheld computer. Also known to many as the MC93, RF Gun or RF Scanner, the MC9300 can double up as a walkie talkie with the pre-licensed PTT (Push-to-talk) Express.
If you need to capture DPM (direct part marking) barcodes, go for the DPM version of the MC9300.  For use in cold-chain applications, the freezer version operates in as low as negative 30 degrees Celsius and is condensation free with freezer rated batteries. The extended 1D/2D barcode scanning range allows barcodes as far as 20m away while the new hot swap battery runs twice as long as its predecessor. 
We understand that your operations are critical and downtime is not an option. Insure your device with the Zebra OneCare Select for a next-business-day replacement policy in case of device breakdown or accidental damage!
The ATEX Zone 2/22 version of the MC9300 (MC93ex-NI by Bartec) is also available from Comtrol Solutions. 
Read this blog to find out why the MC9300 is the world's #1 most popular handheld computer.
Dimensions
240 mm L x 88 mm W x 189 mm H
Operating System
Android 10
CPU
Qualcomm Snapdragon™ 660 octa-core, 2.2 GHz
Drop Spec
2.4m drops to concrete (Standard)
2.1m drops to concrete (freezer)
Tumble Spec
2,000 1.0 m tumbles
Zebra TC52x, TC57x and TC52ax Touch Computer
TC52x (Wi-Fi) and TC57x (Wi-Fi/cellular)
If your operators prefer the form factor of a smart phone (PDA), consider Zebra's family of Touch Computers. Successor of the popular Zebra TC52 and TC57, the TC52x and TC57x, is the latest rugged mobile computer quipped with Full HD (1920 x 1080) 5-inch display. It provides excellent outdoor readability even under sunlight. The Multi-touch screen works even when wet, with a gloved finger or a stylus. Using the device in an industrial environment? With MIL STD 810G approval, it can withstand 1.2m drops to concrete, 500 tumbles and is IP68 rated against dust and water.
Unmatched Performance with TC52ax 
For TC52ax supports Wi-Fi 6 and for distant barcode scanning requirements, the TC52ax with SE55 scan engine allows extended range scanning up to 12.2m away! The green laser aimer is 7x more visible than red laser which allows you to see it even under the sun.  
Dimensions
155 mm L x 75.5 mm W x 18.6mm H (with SE4720)
159mm L x 75.5mm W x 18.6mm H (with SE55)

Weight
260g (with SE4720)
266g (with SE55)
Operating System
Android 11; upgradable to Android 14
CPU
Qualcomm Snapdragon™ 660 octa-core, 2.45 GHz
Drop Spec
Multiple 1.2 m drops to concrete
Tumble Spec
500 0.5m tumbles
Zebra TC72 AND TC77 Touch Computer
The Zebra TC72 (Wi-Fi) and TC77 (Wi-Fi/cellular) handheld computer is the best mobile computer with 15 hours of battery power, 4GB Ram and 32GB flash, superior 1D/2D barcode capture. Double up as a walkie talkie with the pre-licensed PTT (Push-to-talk) Express.
A reputation for extreme ruggedness. the TC72 and TC77 is the best choice for indoor and outdoor mobile computing; MIL-STD 810G approved for 2.4m drop to concrete, 2000 tumbles and is IP68 rated against dust and water.
The ATEX Zone 2/22 version of the TC77 (TC77ex-NI by Bartec) is also available from Comtrol Solutions. 
Dimensions
161 mm L x 84 mm W x 28 mm D
Operating System
Android 10
CPU
Qualcomm Snapdragon™ 660 octa-core, 2.2 GHz
Drop Spec
Multiple 2.4 m drop to concrete
Tumble Spec
2,000 1.0 m tumbles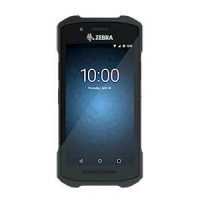 Zebra TC21 and TC26 Touch Computer
When workers use commercial mobile phones for their daily tasks, these devices are prone to wear and tear and are at risk of breaking due to drops. Consider replacing the use of mobile phones with the MIL-STD-810G certified TC21 (Wi-Fi) and TC26 (Wi-Fi/cellular). Capable of withstanding 1.2m drops (or 1.5m with a rugged boot), the TC2X is the most affordable yet tough handheld computer in Zebra's TC series. Equipped with 2D barcode scanner, a 2.2 GHz processor and up to 4GB of ram, it provides sufficient computing power for most tasks.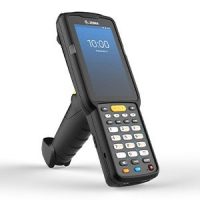 Zebra MC3300x Touch Mobile Computer
Weighing upwards of 450g, the lightweight and rugged MC3300x is built to last with 1.8 m drop specification and IP64 dust and water ingress protection. Choose between 1D, 2D, standard or extended range scanner. The high performance MC3300 is equipped with a powerful 2.2 GHz octa-core processor and 4 GB RAM with 32 GB Flash.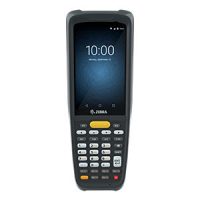 Zebra MC2200 and MC2700 Mobile Computer
Comparison of Handheld Computers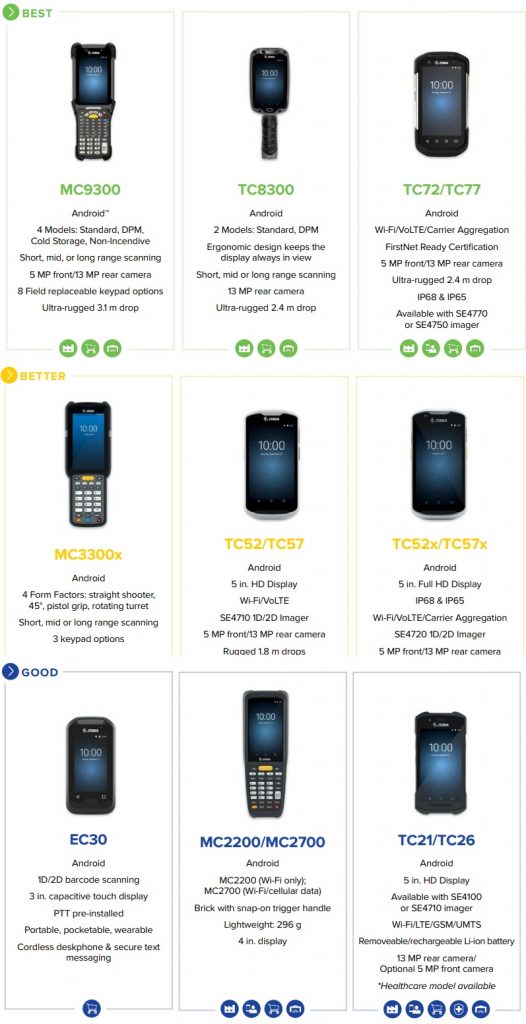 Handheld computers, often known as personal digital assistants, are becoming increasingly common. This amazing technology allows users to carry their work with them wherever they go. One of the most appealing features of these handheld computers is their portability. They are quite compact, even smaller than your usual laptop. You can carry it in your briefcase or even in your pocket because of this. This is advantageous for students because they may bring their full course material with them, making course material access quicker and faster. Corporate executives, on the other hand, can easily take it on flights and to meetings without carrying bulky bags with them. Frequently travelling workers often find handheld computers as functional and convenient.
Another advantage is that the handheld computer is less expensive than you may expect. It is a cost-effective computing solution for small businesses, schools, and households. A webcam and word editing software are also available on some of these machines. Handheld computers can also access data while the user is on the move. At any point in time, order pickers will receive updated data. This will save a lot of time because your employees will not have to come into your office to enter data onto your office computer at the end of the day. Finally, a handheld computer is an excellent instrument for collecting data on the spot. While your products are travelling through your supply chain, you may track and monitor them at any time.
With the usage of handheld computers, your organisation will be able to provide error-free services. As a result, consumer satisfaction will improve, and sales will increase. Furthermore, increased employee productivity and flexibility will aid you in meeting your consumers' growing demands.