Not every label is created equal. There are thousands of different labels – each with their own set of features that affect durability and printer performance. If your labels are subjected to or chemicals or high temperature, you will need to choose one that is fit for purpose. Comtrol Solutions help you select the right label to match your needs while also matching your budget.
Paper Labels – for General Applications
Paper labels meet the requirements of a variety of applications that do not require durability to chemicals or abrasion. Our offering includes direct thermal and thermal transfer labels with varying degrees of performance.
Synthetic Labels – for Enhanced Durability
Synthetic labels offer durable, long-lasting print and barcode readability due to their resistance to abrasion, moisture and chemicals. Many synthetic labels can last for 3 years or more when printed with a resin ribbon.
Choose from wax, wax/resin and resin ribbons to meet the durability demands of your application when ideally matched to our thermal transfer materials. They are available for all of Zebra's industrial and desktop printers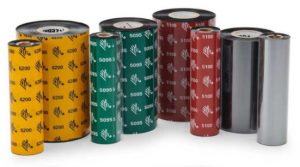 Wax Ribbons – For General Applications
Ideal for Use:
– With paper materials

– where fast print speeds are required

– In environments where little or no exposure to chemicals and/or abrasion
Wax / Resin Ribbons – Good Abrasion and Chemical Resistance
Ideal for Use:
– With top-coated paper and matte synthetic materials
– In environments with moderate to harsh exposure to chemicals and/or abrasion
Resin Ribbons – Best Print Quality & Durability
IDEAL FOR USE:
– With all synthetic materials and some top coated labels and tags
– In environments with harsh to extreme exposure to chemicals
– When applications require strong resistance against ultra high temperatures and harsh outdoor environments