Not every label is created equal. There are thousands of different labels – each with their own set of features that affect durability and printer performance. If your labels are subjected to or chemicals or high temperature, you will need to choose one that is fit for purpose. Comtrol Solutions help you select the right label to match your needs while also matching your budget. We supply low cost locally produced labels as well as high quality Zebra specialty labels.
Local Artpaper labels : low cost, for indoor use and a shorter lifespan. Commonly used on corrugate, paper, packaging films, most plastics and metal & glass.
Local Polypropylene labels: Limited ability to withstand abrasion, moisture, chemical.s Flexible for curved surfaces and outdoor exposure of 1 to 2 years.
Specialty Zebra labels : Test and proven for wide range of applications including exposure to water, contact with weak to extreme chemicals, high heat, cold and condensation for up to 10 years lifespan.
Paper Labels – for General Applications
Paper labels meet the requirements of a variety of applications that do not require durability to chemicals or abrasion. Our offering includes direct thermal and thermal transfer labels with varying degrees of performance.
Synthetic Labels – for Enhanced Durability
Synthetic labels offer durable, long-lasting print and barcode readability due to their resistance to abrasion, moisture and chemicals. Many synthetic labels can last for 3 years or more when printed with a resin ribbon.
Choose from wax, wax/resin and resin ribbons to meet the durability demands of your application when ideally matched to our thermal transfer materials. They are available for all of Zebra's industrial and desktop printers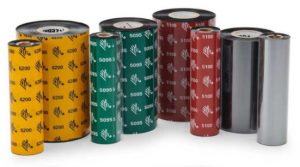 Wax Ribbons – For General Applications
Ideal for Use:
– With paper materials

– where fast print speeds are required

– In environments where little or no exposure to chemicals and/or abrasion
Wax / Resin Ribbons – Good Abrasion and Chemical Resistance
Ideal for Use:
– With top-coated paper and matte synthetic materials
– In environments with moderate to harsh exposure to chemicals and/or abrasion
Resin Ribbons – Best Print Quality & Durability
IDEAL FOR USE:
– With all synthetic materials and some top coated labels and tags
– In environments with harsh to extreme exposure to chemicals
– When applications require strong resistance against ultra high temperatures and harsh outdoor environments
When to choose Wax Ribbons?
Wax Ribbons are the most common type of thermal transfer ribbon, They are economical but also durable thus suited for paper-based label applications like carton labels and general purpose labels. A full wax thermal transfer ribbon is coated with wax-based ink. During the printing process, heat from the printer's printhead will melt the wax-based ink and transfer it to the surface of the thermal transfer labels, forming the desired printed area. As there is a high ratio of wax in the ribbon, a lower heat setting on the printer can be used and high print speeds are achievable.
When to choose Wax-Resin Ribbons?
Wax-resin ribbons are more expensive than wax ribbons but are popular because of the durable print it creates. The printing process is similar to the wax printing process, where a hybrid of wax and resin-based ink is melted and transferred onto the surface of the labels. This results in a clear image that is much more resistant to water, chemicals, heat, scratch and smearing. The melting temperature required for wax-resin ribbons falls between full wax ribbons and full resin ribbons. Wax-resin ribbons are ideal for various material types, from uncoated paper stock to coated, glossy paper stock and even synthetic weatherproof label materials. Wax-resin ribbons are commonly used for barcode labels, shipping labels, medical industry and asset labels.
When to choose Resin Ribbons?
Full resin thermal ribbons are the most expensive as compared to the previous two types. Full resin ribbons provide excellent performance producing labels with a sharp and clear print. Resin ribbons are shitable for use in harsh environments such as corrosive, high temperatures UV applications and moisture. They are used for super high gloss labels and synthetic labels. Typical applications include drum labelling, product labelling and labels requiring a long life and all types of outdoor labelling that require durability.