ZE511 and ZE521 Print Engine
Comtrol Solutions is a Zebra Certified Print Engine Specialist. Contact us today!
Print and apply label applicators create labels and apply then directly onto a product or its packaging. A print and apply machine is expected to work 24/7/365 without interruption and at the heart of it is the Zebra ZE500 series print engine. Offering print speeds up to 18 ips for the 4-inch ZE511 and print speeds up to 12 ips for the 6-inch ZE521, the best in class ZE511 also offers up to 600 dpi for a premium print resolution. Choose the Zebra print engine with a left or right-hand orientation. Featuring a colour touch display, it can be remotely mounted up to two meters. Interface to the host via ethernet, Wi-Fi, bluetooth, parallel or USB.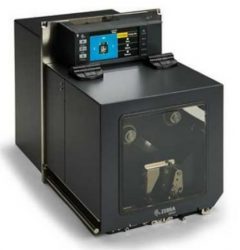 Max. Print Width
4.09″ (104mm)
Interfaces
Standard: USB 2.0, RS-232 Serial, 10/100 Ethernet, Bluetooth® 4.1, Dual USB Host, Applicator Interface
Optional: Parallel port option card, Dual band 802.11ac Wi-Fi and Bluetooth card, 10/100 Ethernet card
Max. Print Speed
18 ips at 203dpi
14 ips at 300pi
6 ips at 600dpi
Print Resolution (dpi)
203, 300, 600
Max. Print Width
6.6″ (168mm)
Interfaces
Standard: USB 2.0, RS-232 Serial, 10/100 Ethernet, Bluetooth® 4.1, Dual USB Host, Applicator Interface
Optional: Parallel port option card, Dual band 802.11ac Wi-Fi and Bluetooth card, 10/100 Ethernet card
Max. Print Speed
14 ips at 203pi
12 ips at 300dpi
Print Resolution (dpi)
203, 300