Compact yet powerful, the latest models of handheld computers today run on Android operating systems and have integrated 1D/2D barcode scanners. With the help of 3rd party apps or the popular iVanti Velocity Wavelink, they are used to improve inventory and picking functions. Handheld computers are also popular choices in warehousing, manufacturing and retail. Due to their rugged design and reliability, they can perform a variety of everyday tasks, including emailing, scanning, stock taking or even work as walkie talkies (Push-t0-Talk). Are you evaluating handheld computers for your specific work operations? Talk to Comtrol Solutions today!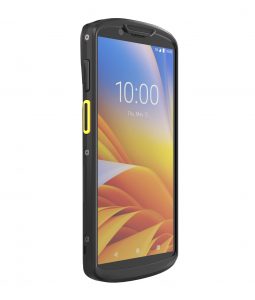 Zebra TC53, TC58 Handheld Computer
TC53 (Wi-Fi 6E) and TC58 (Wi-Fi 6E/5G)
Introducing the latest TC53 and TC58, allowing stock taking, mobile payment, parcel dimensioning, last-mile operations to even park admissions. All the latest wireless technologies give workers faster and more reliable access to information they need to get the job done — including 5G, Wi-Fi 6E. A large 6-inch screen lets workers see more, thinner and more rugged. Get the largest, highest resolution and brightest display in this product class. Screens are easy to read indoors and outside. Edge-to-edge technology means more information and less scrolling. It works when wet. And workers can use a stylus or finger, with or without a glove — no need to change modes.
Dimensions
164.8 mm L x 77.35 mm W x 16.75mm H
Operating System
Android 11; upgradable to Android 16
CPU
Qualcomm 6490 octa-core, 2.7 GHz
Drop Spec
Multiple 1.5 m drops to concrete
Tumble Spec
1000 0.5m tumbles
Zebra TC52x, TC57x and TC52ax Touch Computer
TC52x (Wi-Fi) and TC57x (Wi-Fi/cellular)
If your operators prefer the form factor of a smart phone (PDA), consider Zebra's family of Touch Computers. Successor of the popular Zebra TC52 and TC57, the TC52x and TC57x, is the latest rugged mobile computer quipped with Full HD (1920 x 1080) 5-inch display. It provides excellent outdoor readability even under sunlight. The Multi-touch screen works even when wet, with a gloved finger or a stylus. Using the device in an industrial environment? With MIL STD 810G approval, it can withstand 1.2m drops to concrete, 500 tumbles and is IP68 rated against dust and water.
Unmatched Performance with TC52ax 
For TC52ax supports Wi-Fi 6 and for distant barcode scanning requirements, the TC52ax with SE55 scan engine allows extended range scanning up to 12.2m away! The green laser aimer is 7x more visible than red laser which allows you to see it even under the sun.  
Dimensions
155 mm L x 75.5 mm W x 18.6mm H (with SE4720)
159mm L x 75.5mm W x 18.6mm H (with SE55)

Weight
260g (with SE4720)
266g (with SE55)
Operating System
Android 11; upgradable to Android 14
CPU
Qualcomm Snapdragon™ 660 octa-core, 2.45 GHz
Drop Spec
Multiple 1.2 m drops to concrete
Tumble Spec
500 0.5m tumbles