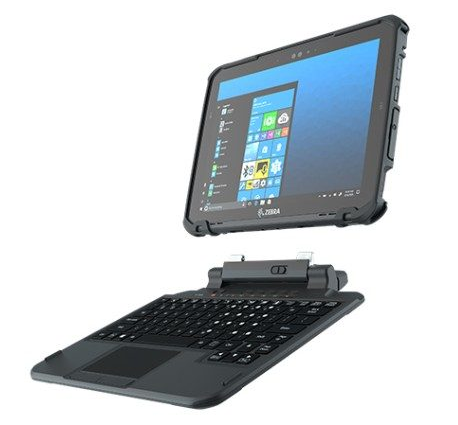 ET80 / ET85 Rugged Windows Tablet
Looking for a slim and lightweight yet rugged to tablet for use in a vehicle, outdoors or in manufacturing? The ET80 and ET85 is equipped with a large 12 inch screen, available as a standalone tablet, or with a detachable keyboard to provide a true 2-in-1. The easy to clean design and IP65 rating makes it great for cleanroom applications and other hazardous Class 1 Division 2 areas.
The new ET80 (Wi-Fi) and ET85 (Wi-Fi & Cellular) is truly the best-in-class rugged tablet that offers the flexibility for your operational requirements.
Operating System & CPU
Windows 10 Pro: Intel Core i5, i7
Display
12 in. 3:2 QHD (2160 x 1440) – 800 nits
Storage
128GB, 256GBm 512GB SSD
Wireless Communications
WiFi, Cellular, Bluetooth
Battery
11 hours standard. 17 hours with auxiliary battery
Rugged Specs
IP65, MIL-STD-810H 1.2m drop (1.5m drop with rugged boot)
Hazardous Approval
C1D2 (Class 1 Division 2)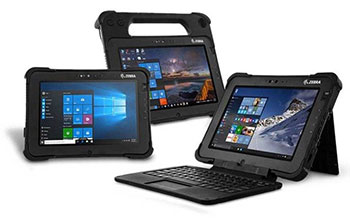 L10ax Rugged Windows Tablet
A reliable rugged tablet complements your efforts of digitalization and IOT for manufacturing
With the easy wipe-down housing, the L10 is perfect for the food and pharmaceutical industries. Rated for IP65, and withstands 6 feet drops, the L10 and works reliability in cold storage, rain or under sunlight. An optional barcode reader is built into the handle for data input. Choose from either Windows 10 or Android 10 operating system. The L10 Rugged tablet is available in 3 versions:
Weight
1.3kg (XSlate), 1.4kg (XPad)
Display
10.1 in. 2K Resolution Display
Operating System & CPU
Windows 10 Pro: Intel Core i5, i7
Storage
128GB SSD to 512GB SSD
Wireless Communications
WiFi, Cellular, Bluetooth
Battery
9.5 hours standard. 25 hours with extended battery
Rugged Specs
IP65,  MIL-STD-810H 1.83m drop